Beautiful Wounds by Tim Connor
Wednesday, May 18, 2022 - 7:00pm
In Beautiful Wounds, Tim Connor offers a moving, visual tribute to the enduring power of nature and the healing power of time. His photography captures the haunting Scablands wilderness while his writing examines the legacy of J Harlen Bretz, the geologist who, in the 1920s, first suggested that massive floods formed the region's epic cataracts and inexplicably deep lakes.
This free event will be held at The Hive, a cutting-edge community meeting space and artist residency operated by Spokane Public Library. The Hive is located at 2904 E Sprague Avenue and has complimentary onsite parking.
About the book
Carved and scoured by catastrophic floods at the end of the most recent ice age, the Channeled Scablands of eastern Washington State dazzle with their harsh beauty and the diversity of their natural features, including great waterfalls, sprawling canyons, and cinematic palisades. In this pictorial love letter to the region that incorporates his own journey of grief, writer and photographer Timothy Connor expertly combines stunning images, engaging field notes, historical narrative, and a touching personal sojourn. His photography captures the sweeping horizons, braided wetlands, and vibrant wildlife, while his words examine the once-mystifying landmarks of the area through the story of J Harlen Bretz.
About Tim Connor
Tim is a writer, photographer and national award-winning journalist based in Spokane, Washington. Born at Camp Hanford, WA in 1956 he was named the Outstanding Graduate in Journalism from Washington State University in 1979. He became an associate editor at Spokane Magazine in 1981 and has also written for the Bulletin of the Atomic Scientists, the Portland Oregonian, Washington Law & Politics, the Seattle Weekly among other publications. He has been awarded three Sigma Delta Chi first place national awards for investigative reporting and was honored in 2011with the Excellence in Legal Journalism Award by the Washington State Bar Association. He has testified before both houses of Congress and presented before the National Institute of Medicine and National Commission on Radiological Protections and Standards. Prior to Beautiful Wounds, his most recent book, with Margaret Witt, is Tell: Love, Defiance and the Military Trial at the Tipping Point of Gay Rights.
Books: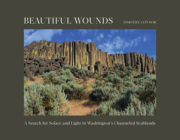 $35.00

ISBN: 9781682686805
Availability: On Our Shelves Now
Published: Countryman Press - May 10th, 2022
A lush, photographic journey through the origins and cataclysms of one of America's most enigmatic natural treasures.
---