Transformers: Robots in Disguise: Where Crown City Comes to Life (Hardcover)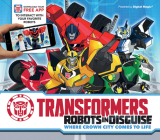 $14.95
Usually Ships in 1-5 Days
Description
---
Watch Transformers come to life as never before Not only will fans find out who's who in the all-action world of Crown City, they can then bring their favorite Autobots and Decepticons to life with incredible 3D augmented-reality animations--and interact with them on their smartphones and tablets.
The only augmented-reality character guidebook for the world of Hasbro's smash-hit animated series, Transformers--Robots in Disguise
In single-user mode, bring Autobots and Decepticons to life in the palm of your hand--it's time to take control of Bumblebee, Grimlock, Steeljaw and Optimus Prime
Switch to lifesize mode and watch your favorite Transformer grow to real size, right there in your backyard. Then take photos of the moment and share them with your friends and family
In dual-user mode, connect your device to a friend's, and battle Underbite against an Autobot of your choice
You can even customize your very own Transformer Choose your components to make the ultimate Transformer, and then watch in amazement as augmented reality brings your unique design to life in 3D
Easy-to-download free app for both iOS and Android
About the Author
---
Caroline Rowlands wrote Carlton Kids' blockbuster hit of 2015, Jurassic World: Where Dinosaurs Come to Life.