Salty, Bitter, Sweet: A Fresh Start. a Broken Heart. a Menu of Possibilities. (Compact Disc)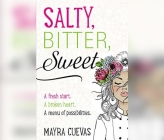 Hard to find. Call for price and availability.
Description
---
Aspiring chef Isabela Fields' family life has fallen apart after the death of her Cuban abuela and the divorce of her parents. When she moves in with her dad and her new stepmom, Margo, in Lyon, France, she feels like an outsider in her father's new life. Now she balances avoiding the awkward, why-did-you-cheat-on-Mom conversation with figuring out how a perpetually single, permanently displaced seventeen-year-old woman can at least be a perpetually single, permanently displaced chef. The upside of Isa's world being turned upside-down? Her father's house is located only thirty minutes away from the restaurant of world-famous Chef Pascal Grattard, who runs a prestigiously competitive international kitchen apprenticeship. The prize job at Chef Grattard's renowned restaurant also represents a transformative opportunity for Isa who is desperate to get her life back in order--and desperate to prove she has what it takes to work in an haute kitchen. But Isa's stress and repressed grief begin to unravel when Margo's attractive, enigmatic stepson from her previous marriage shows up unannounced with his albino dog. How can Isla expect to hold it together when she's at the bottom of her class at the apprenticeship, her new stepmom is pregnant, she misses her abuela dearly, and things with the mysterious Diego reach a boiling point?