Ruff and Tumble (Compact Disc)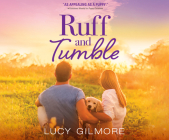 $59.99
Not on our shelves: Call to check availability.
Description
---
As a production assistant for the Puppy Cup, Hailey Lincoln knows all things puppies and football. She also knows all things Cole Bennett, star quarterback for the Seattle Lumberjacks and sexiest man alive. But years spent cheering for Cole from the sidelines never prepared her to meet his famous winning grin--or his unexpected plea for help. Cole's entire life revolves around football, but that's not the future he wants. He's in a bind: if he leaves the spotlight, he risks disappointing his team, his fans, and his incredibly tight-knit family. He needs a bit of good PR to help him out, and Hailey (and her puppies) are perfect for the job. But winning at puppy football is only the start. If Hailey really wants to win--the game, the man, and the family she never thought could be hers--she needs to pull out all the stops. And Cole, who's spent his entire life playing a game, has to realize that losing football isn't nearly as catastrophic as losing the woman he loves.