Moby-Dick: A Pop-Up Book from the Novel by Herman Melville (Pop Up Books for Adults and Kids, Classic Books for Kids, Interactive Books for Adults and Children) (Novelty book)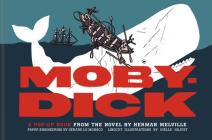 Description
---
In time for the 200th anniversary of author Herman Melville's birth, this graphically arresting, beautifully rendered pop-up retelling of Moby-Dick is a wonder to behold. Rich linocut artworks portray ten key chronological moments from the story in shadowbox-style pop-ups that reward time spent poring over the details and offer fresh perspectives on the classic. Each spread is accompanied by select quotations from the book, while brief page notes provide additional context for the depicted plot moments. With striking typography presented in an authentic broadsheet style, here is an adventure in book craft and storytelling.
About the Author
---
Gérard Lo Monaco is an Argentinian illustrator, paper engineer, and a former art director for several prestigious illustrated publishing houses. He is based in Paris.

Joëlle Jolivet is the illustrator and author of numerous books for children. She lives in France.
Praise For…
---
"In Herman Melville's bicentennial year, which he shares with Walt Whitman, Chronicle Books has published a new pop-up retelling of his most famous work, Moby-Dick. Alongside striking typography, the rich linocut artworks by French artist Joëlle Jolivet portray ten key chronological moments in shadowbox style. Argentinian paper engineer Gérard Lo Monaco then applied his talents to the mechanical side of things.
Melville completists and pop-up devotees will not want to miss out on what the publisher calls 'an adventure in book craft and storytelling.'"
-Fine Books & Collections

"In Herman Melville's bicentennial year, which he shares with Walt Whitman, Chronicle Books has published a new pop-up retelling of his most famous work, Moby-Dick. Alongside striking typography, the rich linocut artworks by French artist Joëlle Jolivet portray ten key chronological moments in shadowbox style. Argentinian paper engineer Gérard Lo Monaco then applied his talents to the mechanical side of things.
Melville completists and pop-up devotees will not want to miss out on what the publisher calls 'an adventure in book craft and storytelling.'"
-Fine Books & Collections

"In Herman Melville's bicentennial year, which he shares with Walt Whitman, Chronicle Books has published a new pop-up retelling of his most famous work, Moby-Dick. Alongside striking typography, the rich linocut artworks by French artist Joëlle Jolivet portray ten key chronological moments in shadowbox style. Argentinian paper engineer Gérard Lo Monaco then applied his talents to the mechanical side of things.
Melville completists and pop-up devotees will not want to miss out on what the publisher calls 'an adventure in book craft and storytelling.'"
-Fine Books Collections