Where Is Bear? : A Terrific Tale for 2-Year Olds (Paperback)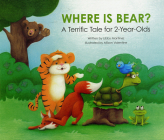 $7.80
Not on our shelves: Call to check availability.
Description
---
Where is Bear? is a fun, interactive way to encourage 2-year-olds in their development and to help parents monitor their children's attainment of important skills. It's a win-win for early development! 
Meet Tiger, Bear, and their forest friends, Bird, Frog, Fox, and Turtle! In this terrifically unique and interactive tale, your 2-year-old child will help Tiger find Bear. Each step in your child's quest to find Bear highlights important milestones in your child's growth and development. Look for the leaf at the bottom of the page for these Milestone Moments. Be sure to review the milestone checklist and helpful parenting tips at the end of the book to learn more about your child's development.

Discover more products produced by the U.S. Center for Disease Control and Prevention/CDC 

Find more parenting books 
About the Author
---
ABOUT THE AUTHOR AND ILLUSTRATOR

About Libby Martinez, Author
Libby Martinez is an award-winning Latina children's book author and poet. She is the co-author
of I Pledge Allegiance (Knopf/Random House), which was recognized as the Best Children's
Picture Book (2015) by the Texas Institute of Letters and the International Latino Book Awards.
I Pledge Allegiance also appeared on the Cooperative Children's Book Center's Choices List,
the Notable Social Studies Trade Books for Young People List, the Kentucky Bluegrass Award
Master List, the Maine State Library's Cream of the Crop List, and was a Scholastic Clubs &
Fairs Selection. Libby is also the co-author of Bravo, Chico Canta! Bravo! (Groundwood Books),
which was a Junior Library Guild Selection (Spanish Edition) and appeared on National Public
Radio's Diverse Summer Reading List for Kids. Prior to becoming a children's book author and
poet, she worked in the Texas political arena, served as the director of school and community
partnerships for the Philadelphia Zoo, and founded a consulting and grant writing practice.
Libby is a graduate of the University of Texas at Austin and Stanford Law School. You can learn
more about her at libbymartinez.com.

About Allison Valentine, Illustrator
Allison Valentine, artist and illustrator, spends her time creating fun and colorful artwork. She
has illustrated numerous children's books over the past 10 years. She resides in Connecticut
with her husband, two young daughters, dog and three cats - all of whom provide endless
inspiration for her art.