Book Release Celebration Club
Welcome!
You've Found the Page for the
Book Release Celebration Club
Join us each month for a celebration of the release of a new book by a popular author, or a new debut author. This club features:
15% discount on select titles for that day
free giveaways and prizes
special activities related to the book
snacks for your tummy
a chance to meet new book-loving friends
All events are held on the mezzanine of Auntie's Bookstore unless otherwise noted. All are free and do not require registration unless noted. Events are age-appropriate for anyone 18 years of age or older due to some book discussion content, activities and giveaways.
SCHEDULE OF 2017 EVENTS (SO FAR)
MAY 18 - 6 P.M.
We had a ton of fun with this event. Folks enjoyed scones and tea, guessed "who done it" from a dramatic 4-part reading of a script written by Ann herself, and walked away with free books. If you missed this event, keep a watch out for future mystery-thriller release celebrations. We will pair them with our regular Mystery-Thriller Club meetings, so you'll have a chance to meet other booklovers and enjoy special treats. See you next time!
JUNE 28 - 6 P.M.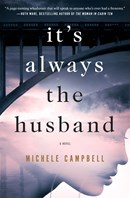 Literary Freedom Book Group Meeting:
Michele Campbell is releasing her tantalizing thriller (It's Always the Husband) and we're going to have some fun with it. Join us at the June meeting of LIterary Freedom Book Club and maybe you can win a bottle of wine! There will also be a few free books, food (we'll be celebrating a birthday in our bunch), and great conversation. (Please note: the author herself will not be with us, except in spirit of course.) Our regular discussion will be focused on The Last Bus to Wisdom by Ivan Doig, so there will be plenty to talk about!
JULY 26 - 6 P.M.
Literary Freedom Book Group Meeting:
We'll have some refreshments and a drawing to celebrate a couple of soon-to-be released titles. Our regular discussion will be about Toni Morrison's book - Beloved. So hope you can join us for a fun time.

$25.99
ISBN: 9781250107381
Availability: Usually Ships in 1-5 Days
Published: Minotaur Books - April 18th, 2017
From Ann Cleeves, winner of the CWA Diamond Dagger Award, comes Cold Earth.

In the dark days of a Shetland winter, torrential rain triggers a landslide that crosses the main road and sweeps down to the sea.
---

$26.99
ISBN: 9781250081803
Availability: Usually Ships in 1-5 Days
Published: St. Martin's Press - May 16th, 2017
"If you loved Liane Moriarty's Big Little Lies, put this thriller on the top of your list…you won't be sure "whodunit" until the very (shocking) end."
—Today

*Named one of "50 Best Books for the Beach" by Coastal Living
*Named one of "7 Books You Won't Be Able to Put Down This Month" by InStyle
---